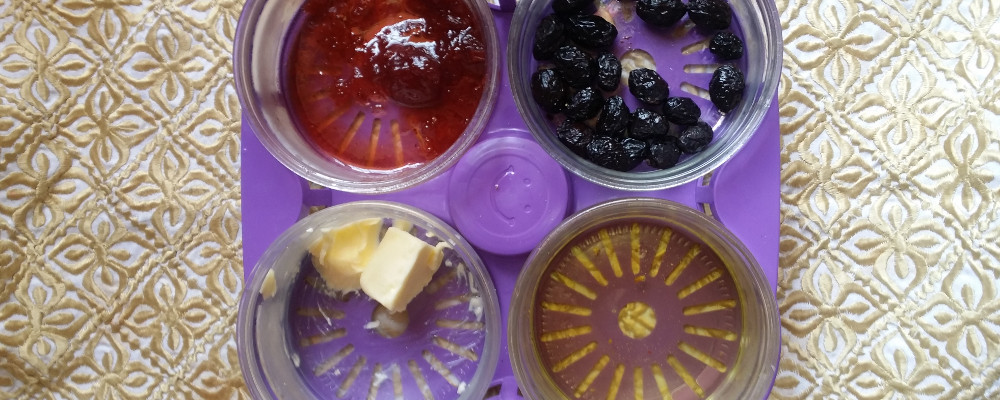 Bread, olive oil and tea is the most basic of Moroccan breakfast. However, if you are in Morocco, you will have a big choice of bakeries, soups and drinks to start the day.
| Depending on the region and habits, this base can be embellished with other ingredients: butter, honey or jam. In the south we find argan oil and the "Amlou", while in the north it will be fresh cheese and mint tea or hot chocolate.
Besides this classic breakfast, a variety of dishes and preparations are available for breakfast. Sweet, salty and sweet-salty mixture. Hot, cold, juices, smoothies, soups, omelettes and even real dishes such as white beans or "Tanjia" in the city of Marrakech.
---
The Tanjia before being a dish, it's an earthenware jar for slow cooking on coals. The original recipe of Marrakech is made with veal shanks, cumin, rancid butter and preserved lemon.... 31.2k views
| Where | When |
| --- | --- |
| Street food, Homemade | Breakfast, Lunch, Dinner |
| Taste | Price |
| Spicy, Salty | Expensive |
| | |
Marrakesh Tanjia
Tanjia marrakchia
---
A bowl of barley soup to warm the body in the fresh mornings of Moroccan winter.... 28.1k views
| Where | When |
| --- | --- |
| Homemade | Breakfast, Dinner |
| Taste | Price |
| Salty | Very cheap |
| | |
Barley semolina Soup
Harira dial dchicha
---
A spread thin and tasty, with almond paste, honey and argan oil. It is the local Nutella!... 26.1k views
| Where | When |
| --- | --- |
| Street food | Breakfast, Tea break |
| Taste | Price |
| Sweet | Affordable |
| | |
Almond paste with argan oil and honey
Amlou
---
"Illane" in moroccan dialect, millet seeds (or millet) in english is a calcium-rich grass whose consumption is recommended for people who have suffered fractures.... 25.4k views
| Where | When |
| --- | --- |
| Homemade | Breakfast, Starters, Dinner |
| Taste | Price |
| Salty | Very cheap |
| | |
Millet soup
Harira dial illane
---
| Where | When |
| --- | --- |
| Street food, Homemade | Breakfast, Lunch, Dinner |
| Taste | Price |
| Salty | Affordable |
| | |
Steamed sheep's head
Rrass dial lghenmi mfouer
---
It is the less noble version of Amlou, whose original recipe uses almonds. Here, almods are replaced with peanuts.... 19.4k views
| Where | When |
| --- | --- |
| Street food | Breakfast, Tea break |
| Taste | Price |
| Sweet | Cheap |
| | |
Peanut paste with argan oil and honey
Amlou bkawkaw
---
The guide of gastronomy of Morocco
par
ingrédient
cuisine
de rue
desserts
et pâtisserie
par
épice