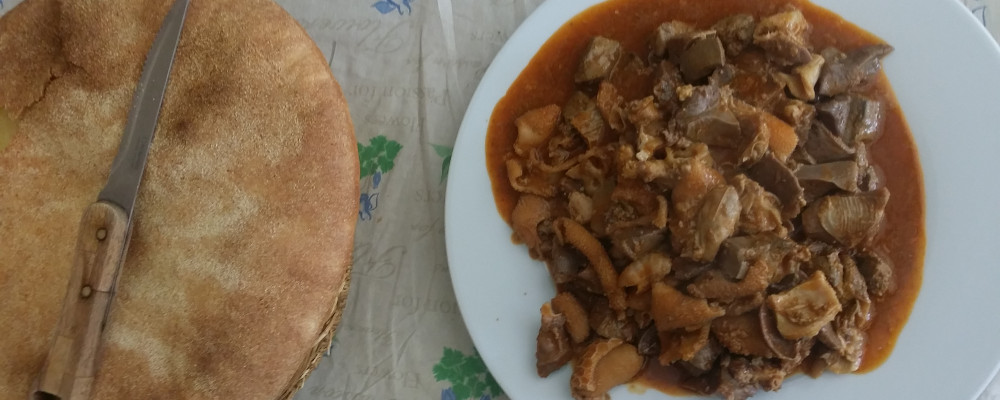 In Morocco, offals are popular and widely cooked homes and in local restaurants. We can sometimes eat the at breakfast!
| Accompanying other dishes like white beans, grilled as the rat or the heart, cooked in a tagine or even salted and dried "Cordas" to preserve them.
The feast of the "Aid El Kebir" is an opportunity to prepare them home.
---
The spleen recipe is a spicy and delicious fast food.... 26.9k views
| Where | When |
| --- | --- |
| Street food | Snack food, Dinner |
| Taste | Price |
| Spicy, Salty | Affordable |
| | |
| Where | When |
| --- | --- |
| Street food, Homemade | Breakfast, Lunch, Dinner |
| Taste | Price |
| Salty | Affordable |
| | |
Steamed sheep's head
Rrass dial lghenmi mfouer
---
[autoTrans]In general, this specialty is prepared in the homes especially during the time of the festival of the sheep with offal still fresh which one cooking to obtain a kind of spicy stew with piec... 17.4k views
| Where | When |
| --- | --- |
| Street food, Homemade | Lunch, Starters, Dinner |
| Taste | Price |
| Spicy, Salty | Affordable |
| | |
Offal in the Moroccan way
Tkelia
---
A very special way to prepare liver skewers. The Boulfaf which could be translated as the "wrapped" is an essential of the feast of "Eid El Kebir" in Morocco.... 15.9k views
| Where | When |
| --- | --- |
| Street food, Homemade | Lunch, Starters, Dinner |
| Taste | Price |
| Spicy, Salty | Affordable |
| | |
Offals in Morocco are considered as a prime food. In the moroccan "Cordas", they are marinated in a salty and spicy mixture before being put to dry in the sun. This helps to conserve them a long time ... 13.8k views
| Where | When |
| --- | --- |
| Homemade | -- |
| Taste | Price |
| Spicy, Salty | Affordable |
| | |
The guide of gastronomy of Morocco
par
ingrédient
cuisine
de rue
desserts
et pâtisserie
par
épice